Hey first name, this is Tim at Better Painting & Coatings. I found you listed in the CREJ and thought I would reach out. I have an interesting idea you may want to check out.
Many property managers are looking for ways to make their property more attractive to potential lessees. Better buildings create a better experience for lessees and managers/owners. What if I told you your whole building (and occupants) could reap substantial benefits just by changing your paint?
What if you could see…
Increased lease rates
Increased asset value
Less noise
Reduces heat gain Lower cooling costs Improved building performance
Reduced peak power demand
Possibly expensed on taxes the same year
ROI often under 5 years, building dependent
Improve energy efficiency
Sustainable- Cradle to Cradle certified, Gold
Extends the life of the surface
Here's the interesting idea: what if you could prevent your building from heating up – instead of cooling it with the AC? The objective is to REPEL heat and keep a surface from absorbing heat initially, keeping heat in or out or both (interior and exterior uses).
A very effective use of a heat blocking coating is on a flat or low sloped roof. Clearly, black roofs get the hottest (140°-190°) and suffer because heat speeds up the breakdown of materials. In fact, heat wear and tear is the main issue from a longevity standpoint. High mass walls such as stucco, CMU and tilt up are also expensive to cool and decline due to heat. Combine those and you have an expensive building to maintain.
Performance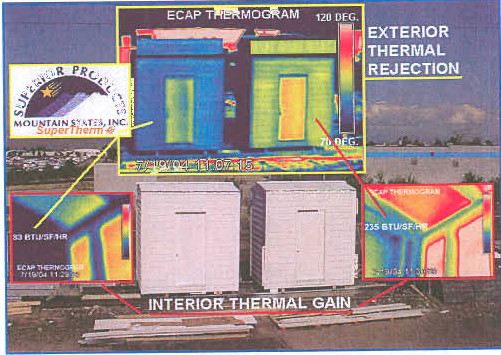 Using these coatings is more effective cost and performance wise than a typical enclosure retrofit. One enclosure retrofit case study I can show you showed a ROI of 12-32 years for adding insulation. This is typical of older CMU walls.
A case study with my heat blocking coating showed a 76% decrease in U-value (heat transfer rate) for a CMU wall with an interior application. Another case study showed a 28% drop in energy required to keep the same interior temperature as a competing coating the same color. (see picture) A third case study showed a 91% retention of heat repelling ability on a sloped metal roof after 18 years.
Obviously this is NOT your typical white reflective coating or ceramic filled paint. They have very limited benefits. This is a multi resin multi ceramic highly engineered coating that blocks up to 95% of heat transfer through the coating. Over 4,000 ceramics were test for the ideal combination to repel as much heat as possible.
History
It's been in use over 30 years, made in Kansas and used by many multi national corporations for mission critical applications around the globe. Now you have the opportunity to take advantage of this little know but highly effective coating and save.
Building Enclosure Services
Better Painting & Coatings is a full service painting contractor specializing in thermal insulation coatings to help businesses get the most effective, least costly way to a more comfortable, profitable and energy efficient building.
In this family of products I have solutions for roofing, walls, ceilings, HVAC, RTU's, windows or anything that needs to stay cooler or retain heat. Better coatings make buildings better.
A heat blocking coating can be used as part of an energy retrofit package or a stand alone project like roof restoration or repaint. I offer both as part of my heat and corrosion management services. The coating comes in white, light colors and a different one in clear.
I offer a number of services to make your building cost less, reduce their environmental impact and make them more comfortable and productive places to work and live.
Interior/exterior painting
Heat resistant coatings for most surfaces up to 1,100°F
Roof restoration
IR Thermal imaging
Moisture detection
Air leak detection and sealing
Blower door testing
Corrosion and lead paint encapsulation
CUI prevention
Talk to Tim today to see if this solution is right for you at 719-641-5043.